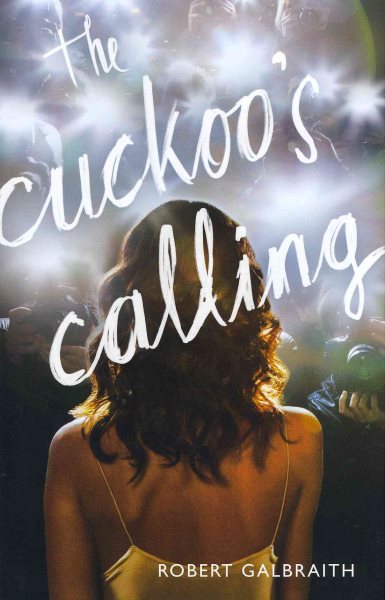 There were those who said that J.K. Rowling would never write another book after Harry Potter and the Deathly Hallows, the last of the Harry Potter series.  Her readers would not be satisfied with another story, and would always seek the magic of Hogwarts in anything she published.  In a weird and wildly successful way, the author was thought to be a "one-hit wonder."  Then The Casual Vacancy was released in 2012, and Rowling proved the naysayers wrong.  This story of an English village's struggle with race and the economy stood toe-to-toe with the best literary fiction of the year.  Now, Rowling has surprised the public once again.  Under the pseudonym, Robert Galbraith, she has written an excellent detective novel, The Cuckoo's Calling.
The Cuckoo's Calling has all the elements of  good noir fiction: a down-on-his-luck detective, a gritty setting, and a secretary with a heart of gold. Cormoran Strike is the illegitimate son of a famous rock-star.  He lost part of a leg in Afghanistan and more recently, his girlfriend, to her posh first boyfriend.  Living in his office and trying to avoid bill collectors, he hires a temporary secretary, Robin Ellacott, for just one week.  Then John Bristow walks into his office and asks Strike to investigate the death of his supermodel sister.  This request starts the ball rolling, on a twisting and turning tale of family jealousy, betrayal and the vagaries of fame.
The story is filled with memorable characters: from the star-dazzled chauffeur, Kieran Kolovas-Jones, to the cocaine snorting, social x-ray, Tansy Bestigui.  Strike ambles heavily through the narrative, asking pointed questions and annoying everyone involved at one time or another. Robin becomes entangled in the investigation, as she goes beyond her secretarial duties to elicit information through the use of clever lies.  When Strike extends her "one-week job," Robin finds her work as the assistant to a P.I. to be much more satisfying than the more conventional kind of secretarial job that her new fiancé wants her to pursue.
One of the most intriguing characters in this novel never appears as a living person. Supermodel Lula Landry was abandoned by her mother, never knew her father, and was finally adopted by a family nearly paralyzed by grief from the loss of a beloved son.  Her beauty brought her money, but she struggled with drugs and relationships.  Rowling/Galbraith paints a picture of a troubled young woman, smothered by the needs of her adopted mother and beset by the paparazzi at every turn.
The trail to finding out "whodunnit" is what makes a good mystery really sing.  Did Lula Landry really kill herself, or was she pushed to her death?  What role did the possessive designer, the famous boyfriend, and her fellow models play in her fate?  What about the rap singer, Deeby Mac?  The journey taken by Cormoran Strike as he unravels the threads that make up this puzzling tapestry includes the back stories of the key players.  Just when readers  think that they know who the killer is, a new fact emerges, sending Cormoran (and readers) in a new direction.
Readers looking for a modern update on the works of Raymond Chandler or James M. Cain should pick up The Cuckoo's Calling, purportedly the first in a series of Cormoran Strike mysteries.  Perhaps someday Cormoran will be just as famous as Harry.