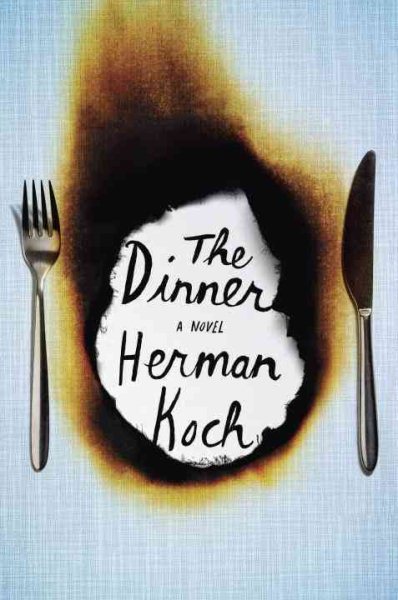 Initially, The Dinner, by Herman Koch, appears to be the story of a world-weary man enduring an evening out with his wife and another couple, Serge and Babette, at an upscale, Amsterdam restaurant.  The musings of the narrator, Paul Lohman, revolve around the restaurant's Art Deco decor, the waitresses in black pinafores and a waiter's elaborate description of a tiny plate of olives. It's clear that Paul does not want to be in this restaurant with these people — he would much rather be with his beloved wife, Claire, at the cozy café down the street.  But as the dinner proceeds, things take a turn in an unexpected direction.

The author has divided the book into chapters correlating to the courses of a meal.  The story becomes darker as each course reveals more about the shared history of the couples.  The appetizers come with a benign discussion of the latest Woody Allen movie.  By dessert, the veil of pleasantries has been stripped away and each character has shown the less than palatable side of his or her nature.
Each couple has a fifteen-year-old son.  These boys, Michel and Rick, together with Beau, of an unknown age and adopted from Africa by Serge and Babette, play a part in this feast.  In fact, their actions form the unspoken reason for the meeting.  Flashbacks to earlier days reveal the power plays, petty jealousies and resentments between the various players that may have led to this uncomfortable dinner.
The exaggerated mannerisms of the waiter, using his pinky finger to indicate which minuscule portion of food he is going to explain next, juxtaposed with the increasingly unruly emotions of Paul and the erratic behavior of Babette, add texture and interest to this story.  It is as if a tidal wave builds underneath the calm surface of the sea.  Each character takes actions and makes moral choices that may surprise readers.  At the end of the book, the elegant champagne aperitif is long forgotten and the ice cream dessert is left melting in a puddle.
The writing in this book is simple and straightforward.  The first-person narrative allows readers to see into Paul's mind and follow his thought processes as the evening deteriorates.  Readers who enjoy compelling family stories and novels that address moral struggles will find much to contemplate in this provocative book.