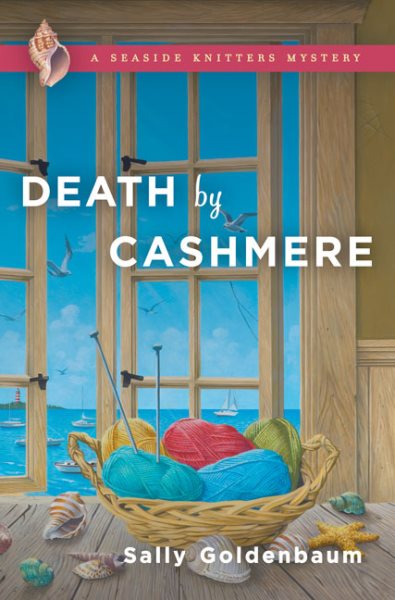 Summer is the perfect time to indulge in some light reading.  My guilty pleasure are "cozy mysteries."  For the uninitiated, a cozy mystery is a book in which the main character is usually an amateur detective, and the setting is a small town or village. Crafts, cooking and gardening often take the place of blood and guts in these enjoyable reads.  This is not to say that there is a lack of murder and mayhem…it's just presented in a gentler way.
Death by Cashmere, by Sally Goldenbaum, takes place in a small (imaginary) town on Cape Ann, Massachusetts, named Sea Harbor. Much of the action revolves around the Seaside Knitting Studio, an idyllic, yarn-filled gathering place owned by Izzy Chambers, a young woman who left her lucrative career as a Boston lawyer to find a safe haven in this coastal town.  Izzy's Aunt Nell and her long-time customers, Birdie and Cass, join forces on Thursday nights to knit, eat wonderful food, drink wine, and unravel crimes as easily as they untangle yarn.
Angie Archer is Izzy's tenant in the apartment above the shop.  Tall, prickly, and enigmatic, Angie has moved back to Sea Harbor to take a job with the local historical society.  A romance seems to be budding with Cass's brother Pete, but an unexplained phone call interrupts their first date and results in Angie's departure from the local pub.  A rainy night and a walk on the breakwater bring consequences that become the heart of this book's mystery.  The Thursday night knitting group believes that what happened to Angie was more than an accident, and they are determined to convince the local police, who just want to blame it on someone drifting through town.  Knitting, purling and brainstorming, this engaging gaggle of sleuths uncovers secrets to identify the evil in their own backyard.
Throw in lobster poachers, a heartbroken and confused old man, a creepy security guard, and a gala party to support the local arts institute, and you have a pattern for a mystery with just enough twists and turns to keep you guessing.  If you want to expand your cozy mystery experience, try Fatally Flaky, by Diane Mott Davidson, or Mourning Gloria, by Susan Wittig Albert.